Normally I don't blog about news, but since it's so close to home, I figured I better.
On Saturday evening, a lightening storm started several fires in the Lolo Creek Canyon. (This is close to the area we went
camping in April
.) Two of which are super close to Missoula, approximately 10 miles. One is known as the West Fork II fire and the other is the Schoolhouse fire. Both of these fires are located just off of Hwy 12 south west of Missoula. Although they started off as two separate fires, they are beginning to merge, as the West Fork II fire jumped the highway, and are headed in a north eastern direction toward Missoula.
Most recently it has been confirmed that 4-8 homes have been take by the fire as it continues to burn approximately 5000 acres. Despite the number of homes taken so far, several hundred home have been given pre-evacuation notices between Sleeman Gulch, about 2 miles out of Lolo, to Bear Creek Road, about 12.5 miles out of Lolo. Early Monday the two fires together totaled about 70 acres until the wind picked up. According to this
article from the Missoulian
, the fires then started burning so fast you couldn't even out run it in a car. Eek! I pray no more homes are taken, and more importantly no lives are lost!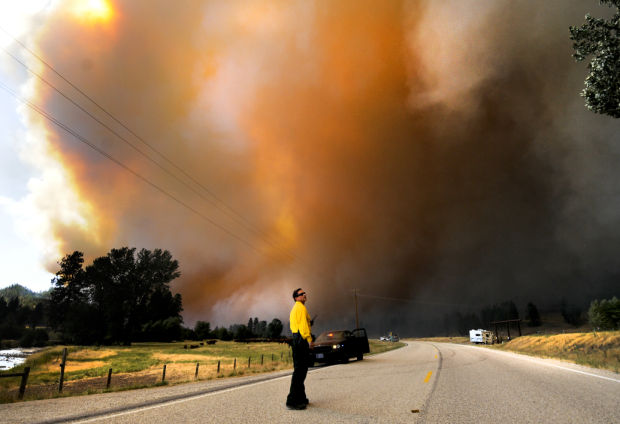 Kurt Wilson/Missoulian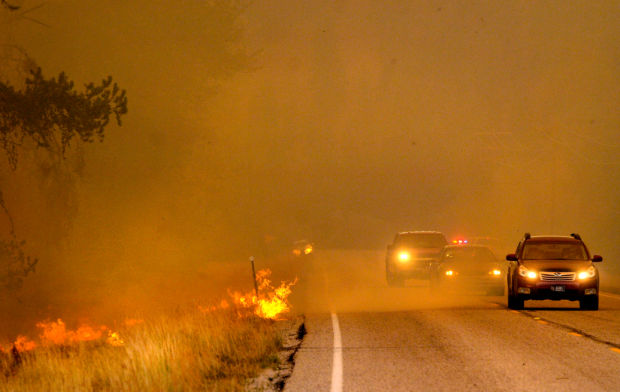 Kurt Wilson/Missoulian
Deputy Will Newsom
Kim Patrick
This was the view my sister had of the fires on her way home.
I can't imagine what it would be like to lose your home to a fire. After giving it a lot of thought, other than my kids, of course (!), if I had to evacuate from my home the two things I would make sure I took with me would be my Hitachi hard drive because it has all the videos and pictures of my children on it and I would hate to "lose" all those memories. The other thing I would take with me would be Great Grandma Sadie's shadow box given to me by her daughter because it is a family heirloom. I honestly can't think of any thing else in my home that is more important to me. Everything else is virtually replaceable, though it may be hard.
What would you take if you had to evacuate your home?